AllFLOW™ 
Pulmonary Function Filters
AllFLOW filters meet or exceed the highest standards in PFT filtering with minimal resistance and low dead space. Our unique Port Color Variety (PCV) reduces fumbling and contamination risk with filter mounting, providing easy administration with equipment. The wide selection of ports enable the professional to accurately obtain quality spirometry and lung function tests.
The AllFLOW filter uses a medium with high quality electrostatic properties that trap bacteria and viruses, preventing contamination to both the patient and equipment.

Low resistance for accurate spirometry and lung function testing
Minimal dead space as needed for lung volume and DLCO testing
Excellent filtration of bacteria and viruses
Eight standard port sizes tailored to fit a wide selection of equipment
Filters exceed ATS guidelines for all criteria
The AllFLOW Filter is unsurpassed in Bacterial/Viral Efficiency
AllFLOW Accessories and Options
Click photos to enlarge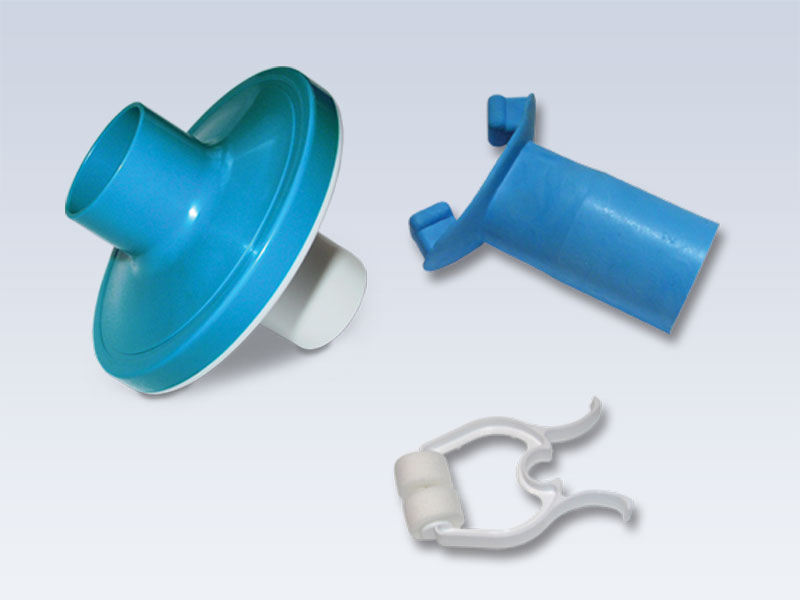 Kits can contain…
AllFLOW filter, nose clip (4 choices) and disposable latex-free AllFLOW rubber mouthpiece. Nose clips and mouthpieces are also available as individual units. There is also a special sized plain paper mouthpiece that can be added.
Category
Bacterial Filtration Efficiency
Description
Category
Viral Filtration Efficiency
Description
Category
Description
0.23 cm H2O/L/sec approximately
Category
Description
K resin case Electrostat® fitrate medium
AllFLOW Ordering Information
Order Number
MP Shape
Color
Manufacture Product Fits
InCheck™, InCheck DIAL™, Multispiro™, CreativeBiomedics, Vitalograph, Schiller, MicroDirect, SDI (Pulmogard II™), Most CosMed Models, MIR (All Models), P.K. Morgan 232, Future Med (Spirobank), PB-400, PB-600, CDX Spiro 850, Spirometrics (Flowmate, Flowmate+,SMI I, Vacumed (Micro, Micro Plus, Micro GP-GL, Micro Loop, Pony)
OD
ID
Quantity
Order Number
MP Shape
Color
Manufacture Product Fits
Koko, KoKo Legend, Keystone, Koko-Trek, CyberMedic Full Gas Systems, Collins 4G and 3G Full Gas Systems.
OD
ID
Quantity
Order Number
MP Shape
Color
Manufacture Product Fits
SensorMedics, 2200,2400, 2450, 2800, others, Including Vmax, Keystone I & II, Pail, Cybermedics Moose, Gould 5004
OD
ID
Quantity
Order Number
MP Shape
Color
Manufacture Product Fits
OD
ID
Quantity
Order Number
MP Shape
Color
Manufacture Product Fits
OD
ID
Quantity
Order Number
MP Shape
Color
Manufacture Product Fits
Morgan/Vitalograph Models
OD
ID
Quantity
Order Number
MP Shape
Color
Manufacture Product Fits
Jaeger Master Screen Series, New
OD
ID
Quantity
Order Number
MP Shape
Color
Manufacture Product Fits
OD
37.95 (with 34.8 undercut)
ID
Quantity
* 2 Step Port Side, Stepped up to 34.8 for Collins Equipment
Order Number
Color
Filter Kit Description
1100 filter with noseclip and mouthpiece
OD
ID
Quantity
Order Number
Color
Filter Kit Description
3100 filter with noseclip and mouthpiece
OD
ID
Quantity
Order Number
Color
Filter Kit Description
4100 filter with noseclip and mouthpiece
OD
ID
Quantity
Order Number
Color
Filter Kit Description
5100 filter with noseclip and mouthpiece
OD
ID
Quantity
Order Number
Color
Filter Kit Description
6100 filter with noseclip and mouthpiece
OD
ID
Quantity
Order Number
Color
Filter Kit Description
7100 filter with noseclip and mouthpiece
OD
ID
Quantity
Order Number
Color
Filter Kit Description
8100 filter with noseclip and mouthpiece
OD
ID
Quantity
Order Number
Color
Filter Kit Description
9100 filter with noseclip and mouthpiece
OD
ID
Quantity
* 2 Step Port Side, Stepped up to 34.8 for Collins Equipment
Accessories Ordering Information
Order Number
Description
Quantity
Order Number
Description
Quantity
Order Number
Description
Quantity
Order Number
Description
Quantity
Order Number
Description
Tubing Cuff Filter Adapter
Quantity
Order Number
Description
Respiratory Disposable Mouthpiece
Quantity